ROPA Euro Maus 6
Video Preview
Introduction

With a significantly larger cabin and a premium-class networked workplace
The new ROPA Maus 6 is more than the fusion of the visionary developments of the Tiger 6S and Panther 2S with the proven, robust and durable components of the Maus 5. The new premium model from the technology leader in the beet loading and harvesting combines field-proven technical solutions with the modern design.
Perfected in capacity and efficiency concept with 10.2 m wide pickup system combines practice-oriented developments with the most recent technical innovations from the ROPA House. The new exterior design of the ROPA Maus 6 symbolises digitalisation and Agriculture 4.0. The light-blue line represents the networking of the Maus internally and externally with the myROPA online portal and R-Connect. A new generation of extremely high-performance computers forms the centre for telematics, predictive analytics and online diagnostics, just like in the Tiger 6S. The machine software for the new Maus 6 is completely developed at ROPA in Sittelsdorf and offers a number of new useful functions.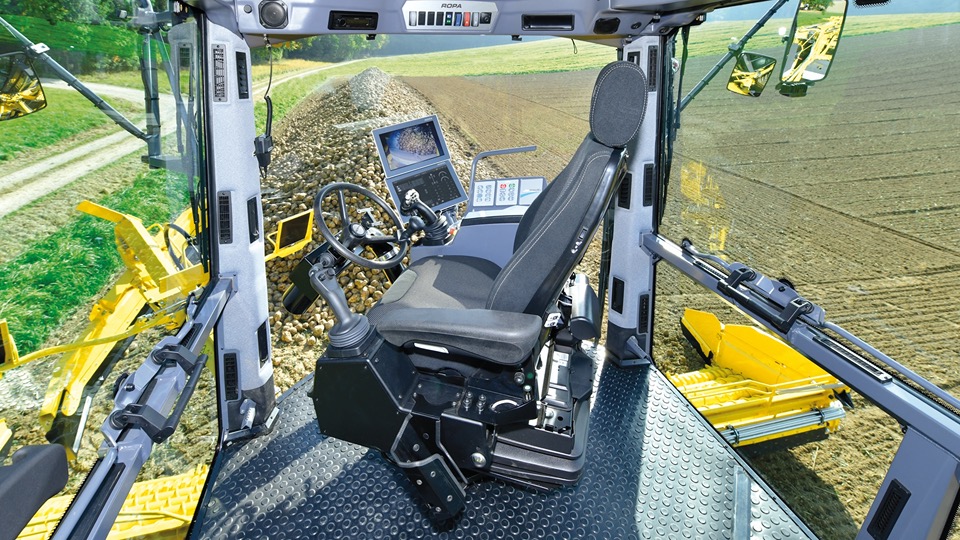 Cabin
SIGNIFICANTLY MORE SPACIOUS CABIN
The newly designed panoramic cabin gives a generous feeling of space and can be raised to 5.10 m in the working mode for convenient operation and excellent visibility. Compared to the Maus 5, the cabin is 16 cm wider, 40 cm longer and, with an enormous total volume of 4,400 l, offers 1,125 l or 35 percent more space and room than that of the ROPA Maus 5. Thus, the cabin of the Maus 6 is the largest cleaner-loader cabin on the market. It now offers more room also for a foldable passenger seat, e.g. for a supervisor or for coordination in case of a driver change. The integrated storage space in the rear wall of the cabin has also been significantly increased. The new cabin has a lot of practical drawers and, for the first time, a cooling box and an additional shelf (for snacks or sandwiches).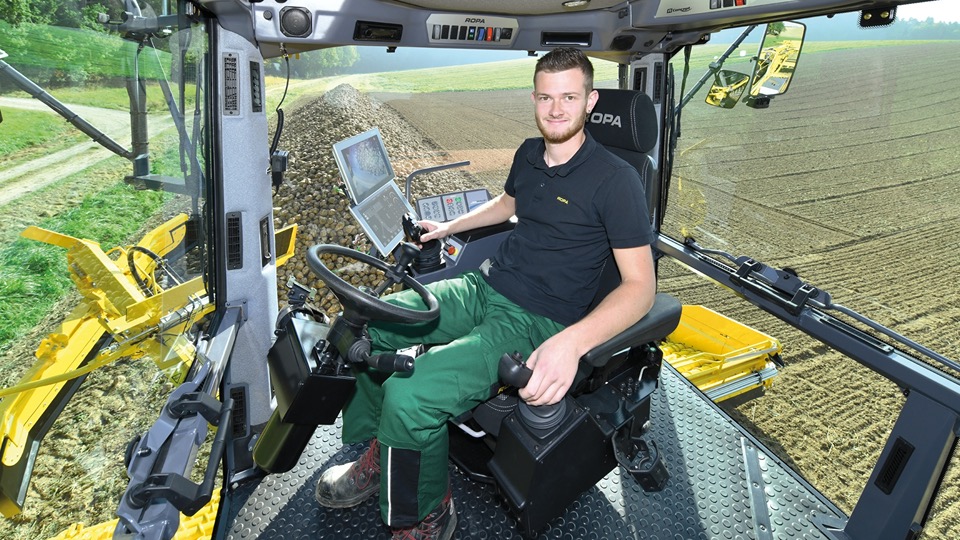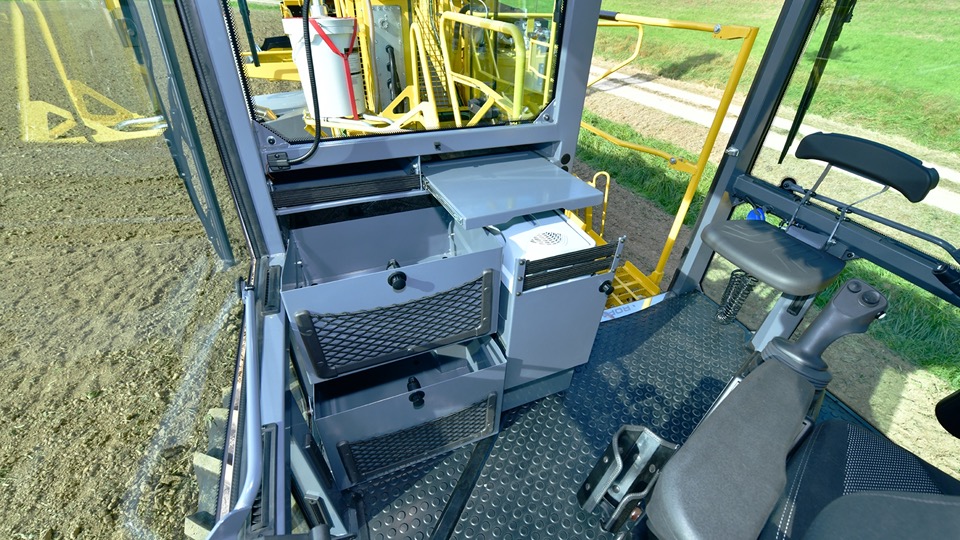 Comfortable interior of the cabin
Sun blinds on all windows and two wipers on each side window provide the best visibility in any weather conditions. The window wipers run synchronously and can be switched conveniently on the terminal to work either in adjustable intervals or permanently. A pleasant and user-friendly interior of the new cabin in combination with the excellent sound insulation guarantees the most comfortable operation. Extremely powerful fully LED working lights turn night into day and make operation even safer. Digital DAB radio with Bluetooth and hands-free set are installed as standard.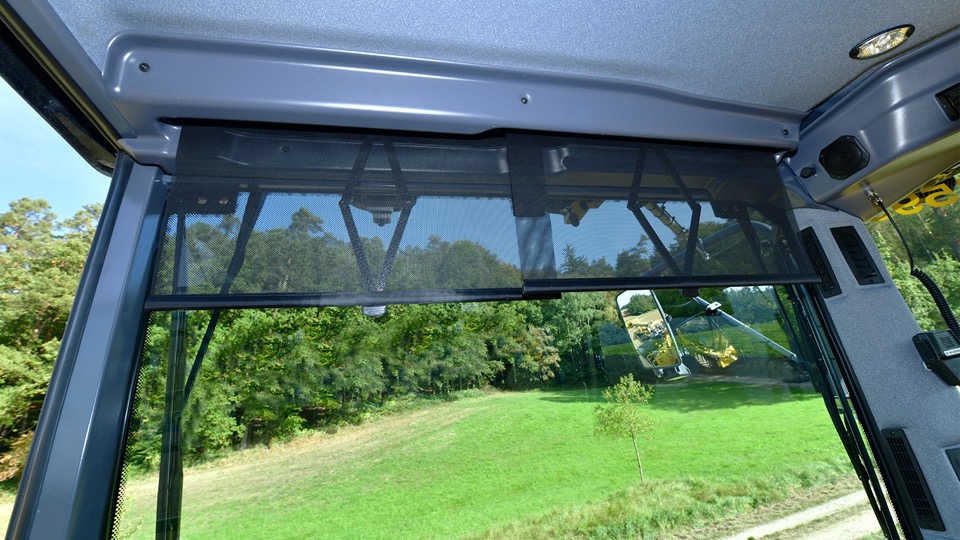 New heating concept with underfloor heating and park heating
The heating concept has been completely redeveloped to ensure a pleasantly warm workplace even in frosty weather with temperatures below freezing. A high-performance underfloor heating system ensures that your feet are always warm. In addition, pipes with larger cross-section were used to increase the flow rate of hot water to the cabin and to the air heat exchanger. Moreover, there is an optimised parking heating for the cabin, hydraulic oil and engine with a convenient user interface on the colour display for the entire air conditioning system. In future, the park heating on the Maus 6 can also be switched on or preset remotely via the myROPA online portal and R-Connect, so that the driver will find a warm workplace when he gets into the vehicle.
New computers, joysticks and two 12.1-inch terminals for even more intuitive and user-friendly operation
The driver's rotating seat with integrated seat ventilation and seat heating is the visual manifestation of leadership in technology and the breakthrough into a new era of networking in the harvest loading. Improved ergonomics thanks to two new joysticks with additional functions, a height-adjustable steering column and terminals perfectly positioned in line of sight. Additional operating terminals for beet logistics can be installed next to the ROPA terminals at an optimum viewing angle.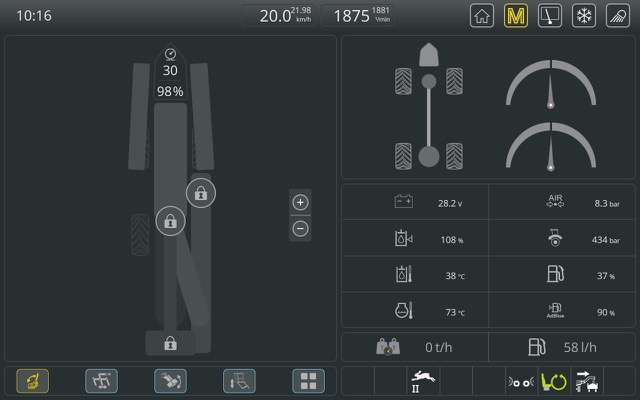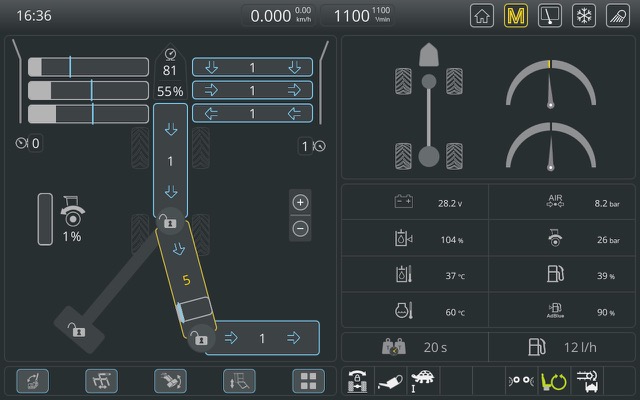 Intuitive operation similar to a tablet
Operation at the terminal with interactive buttons highlighted by the clear colour composition on the modern flat design is even more intuitive and has the same logic as tablets and smartphones. Intentionally used contrasts improve legibility and usability. Compared to the previous model, the Maus 6 has two 12.1 inch operating terminals positioned one above the other with higher pixel density resulting in even sharper resolution. In addition to the machine functions, the camera images in significantly better quality can also be displayed on one of the terminals.
High-resolution digital cameras as standard - R-View in perfection
The Maus 6 has high-resolution digital cameras as standard. The image quality of the digital cameras is significantly better, and an additional Ethernet network is integrated into the machine to handle the resulting greatly increased volumes of data. The Maus 6 now comes with a centre mark camera and a rear view camera as standard. The additional cameras on the track conveyor and the re-cleaner, as well as the new R-View with the back run camera and two additional side cameras for the best rear area monitoring, can be ordered optionally.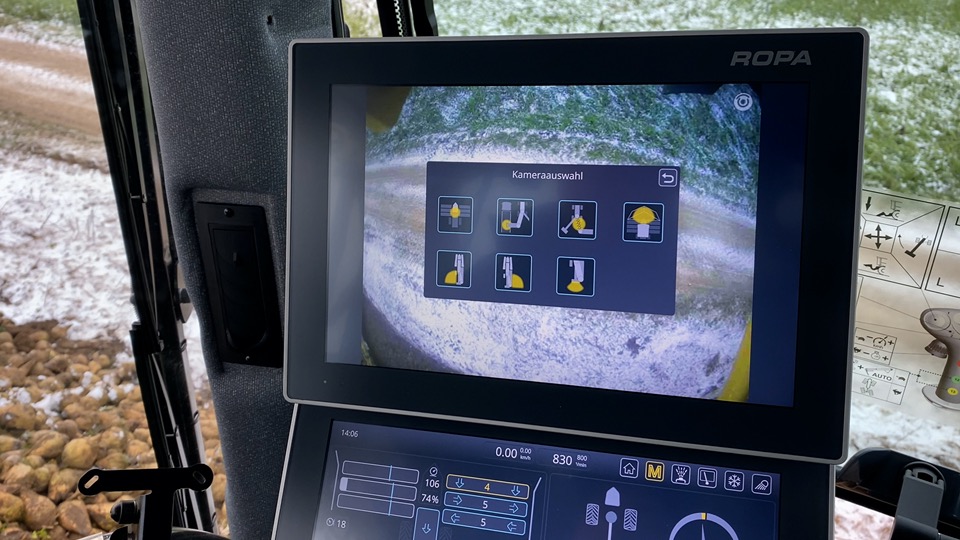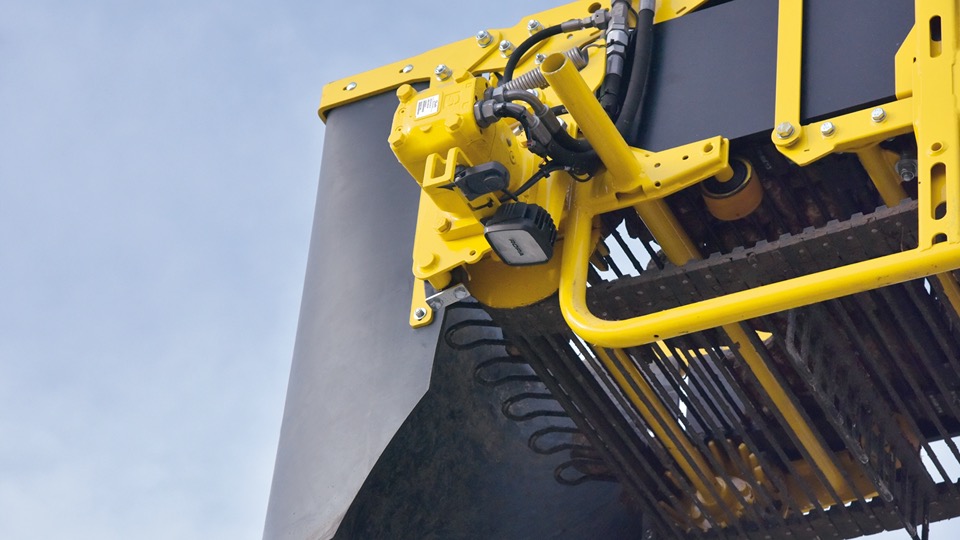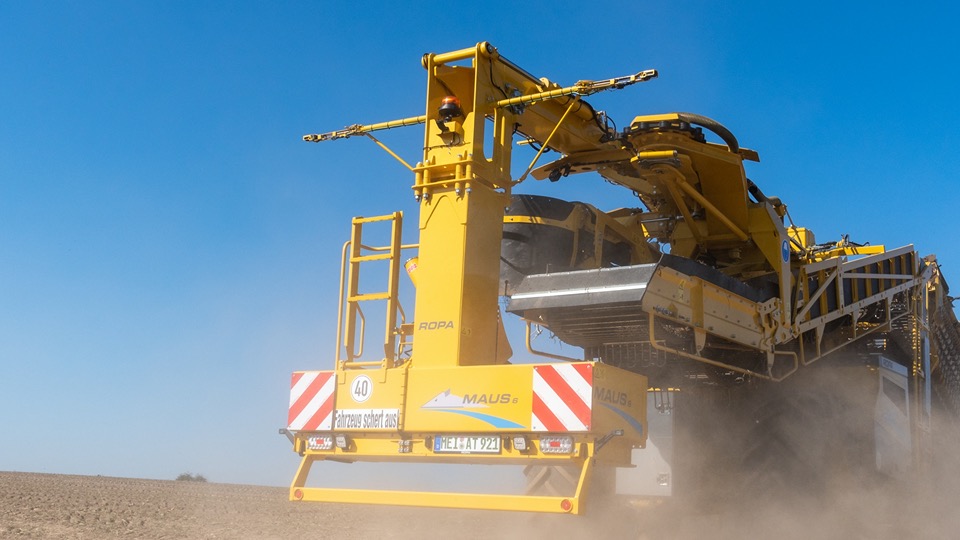 R-CONNECT TELEMATICS AND REMOTE DIAGNOSTICS AS STANDARD EQUIPMENT

The standard integrated telematics module is the basis for proactive Service 4.0, particularly for predictive analytics and fast assistance and diagnostics if service is required on any continent. A service technician can link directly to the terminal and the machine control system to assist the driver, e.g. in solving problems, if it is required. The R-Connect in the myROPA portal is a perfect tool for drivers and managers for the online order processing and optimisation of machines and fleets. For machines with integrated weighing equipment, the individual loads can be listed and analysed in the R-Connect.
10.2 M WIDE PICKUP SYSTEM WITH FLEXIBLE CLEANING ADJUSTMENT
The robust pickup system, extended up to 10.2 m in width, has a total of 18 cleaning rollers (manufactured with a hard-welded finish as standard) for efficient soil and weed removal. It is the widest pickup system of all cleaner-loaders on the market. Depending on the level of cleaning required the cleaning path in the pickup system can be adjusted in length and intensity from the driver's cabin. In comparison to the Maus 5, the folding plates have been optimised to create more space, especially for the significantly larger cabin. The operation of the water spray system has become even more plain and user-friendly and can be switched between automatic and interval mode.
Engine
MERCEDES-BENZ ENGINE WITH THE EXHAUST GAS CATEGORY V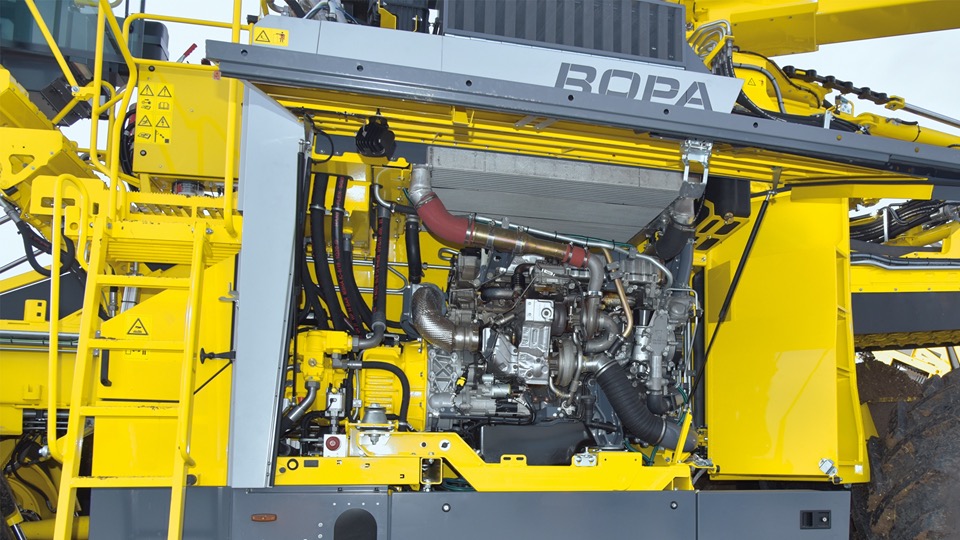 The extremely economical Mercedes Benz OM 936 LA engine of 260 kW / 354 hp with 7.7 l volume capacity, 2-stage turbocharging, 1,450 Nm max. torque at 1,200 - 1,600 rpm (exhaust gas category EU V and USA Tier 4f) is integrated in the most efficient drive concept. It is automatically driven at reduced engine rpm during loading, while at the same time preserving enough power for extreme conditions.
Efficient hydraulic system enables rotational speed reductions
The hydraulic system with optimised gear/revolution transmission provides efficient power transfer. It combines high throughput with very low fuel consumption at very quiet 1,200 rpm during loading. Powerful load-sensing hydraulic system ensures the highest possible hydraulic fluid capacity and a prompt response of the entire operating hydraulics even at idling speed. Another new feature is the automotive mode for diesel engine speed control during loading. It contributes to fuel saving, as the lowest possible engine speed is automatically set according to the speed specifications of 6 separate roller and sieve conveyor drives.
COMPLETELY NEW WEIGHING SYSTEM WITH CAN-BUS WEIGHING CELLS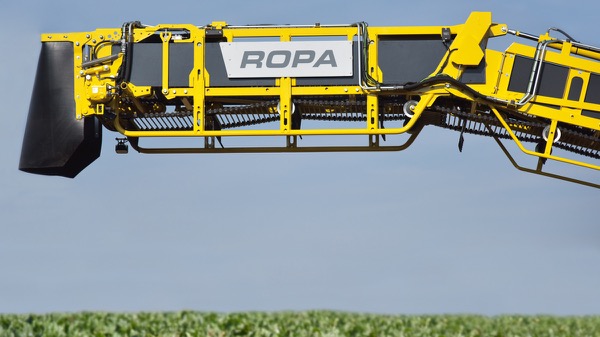 ROPA has also completely redesigned the belt scale system and integrated a weighing frame into the truck conveyor articulation part by means of a new mechanical construction. Two CAN-Bus weighing cells communicate directly with the computer module in the central electrical system. In this way, there is no need for separate computers and many cables at the truck conveyor, which contributes to increased operational safety. The new scale provides a higher accuracy compared to the previous one.
Other Features
OPTIMAL BALANCE WITH COUNTERWEIGHT ARM
The counterweight arm, made of special 700 fine grain steel, contributes to the impressive performance of the Maus during loading whilst maintaining utmost machine stability. The counterweight arm is up to 9 m long and 4 m high and can be swung out together with the fuel tank, which serves as a counterweight to the truck conveyor, thus ensuring optimal balancing of the machine even at more than 15 m overloading width.


COMPACT ON THE ROAD – MINIMUM TIME FOR PREPARATION
For road drive, the complete Maus 6 folds in automatically to a road width of 3 m and a total length of only 14.97 m with just one operating element in the cabin - unique between all the loaders! The large wheel base of 5.5 m combined with two hydraulically sprung additional axles guarantees safe handling of the sturdily constructed loader while maintaining the best driving comfort even at the speed of 40 km/h. The new intelligent main steering switch activates simultaneously the automatic centre positioning of the rear axle steering.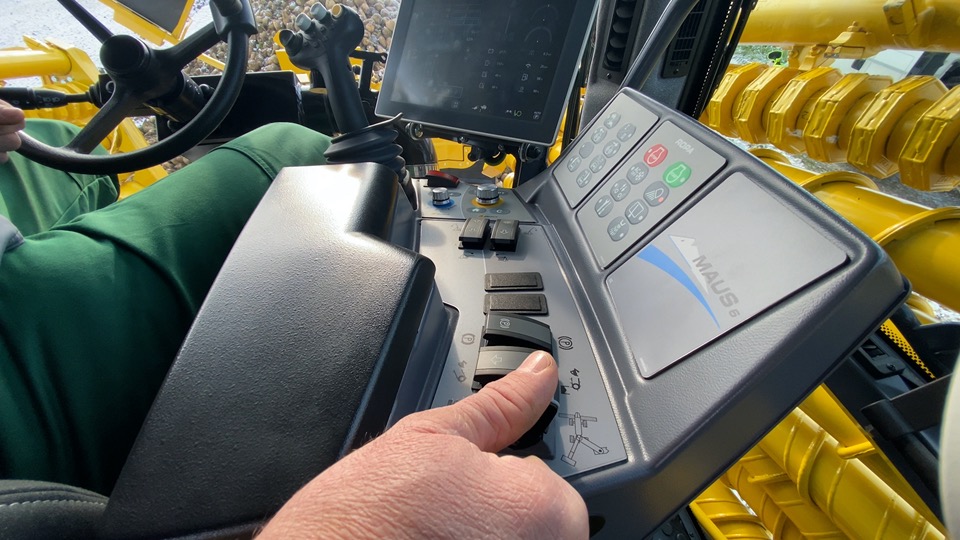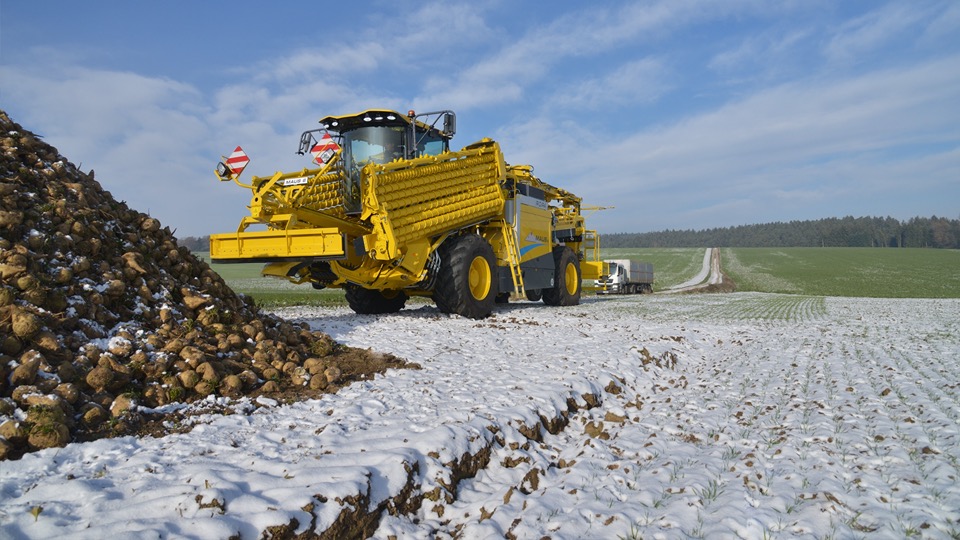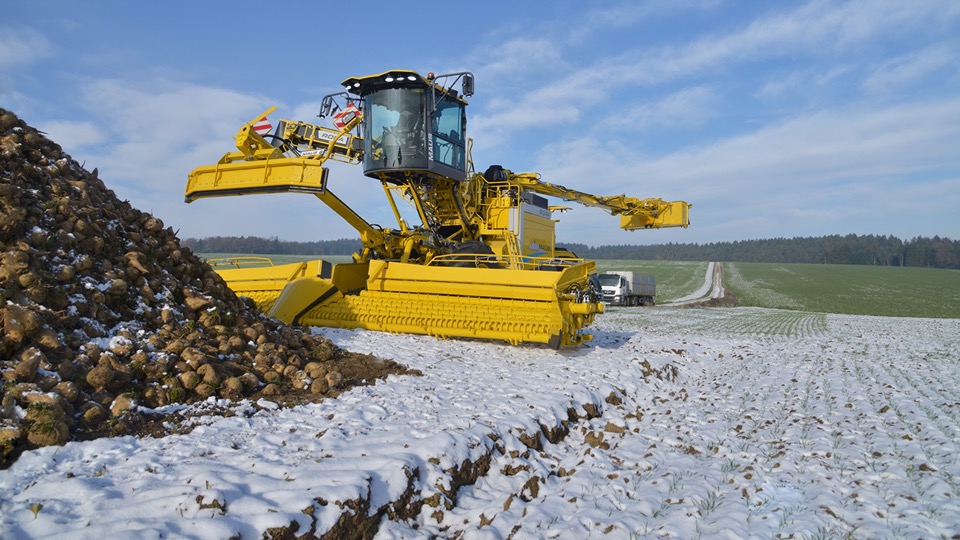 Numerous new developments and optimised features offer additional benefits and comfort for drivers of the Maus 6. For example, the complete equipment with even more powerful LED headlights, direction indicators and rotating beacons, optimised layout of the water spray system. A new design of the entire electrical system and optimised hydraulic system for increased operational safety and ease of service.
Technical Data
Diesel engine:
Mercedes Benz 6 cylinder inline engine OM 936 LA, exhaust level 4 final with AdBlue and SCR-Cat, 7.7 l volume capacity, 2-stage turbocharging, 1,400 Nm max. torque at 1,200 rpm, fully electronic steering with fuel consumption assessment shown at the colour terminal, temperature-dependent cont- rolled and automatically reversible hydrostatic fan drive, one flat belt drive with automatic belt tightening, wear-free cons- tant throttle brake prevents over-revving of the diesel engine, automatic engine shut-down when damage may occur, engine diagnostics integrated into the colour terminal, fuel tank of 1,225 l, AdBlue tank of 95 l, ball cock for 8 l fuel reserve when tank is empty, electronic pump for fully automatic ventilation of the fuel system
Traction drive:
Continuous hydrostatic (Bosch-Rexroth) 4-gear OMSI drive for 2 OMSI planetary steering drive axles, traction drive pump alone can easily transfer more than the complete diesel engi- ne performance, 2 separately adjustable differential locks with automatic function, automatic all wheel switch, cruise con- trol, automatic driving at reduced rpm, load control via highly sensitive steering in crawl gear, front axle with drum brake 500x180 Duplex, rear axle with drum brake 500x120 Simplex, 4 spring-loaded actuator brake cylinders for operation and parking brake, driving speed 32 km/h, 40 km/h optionally with 2 drive motors
Cabin:
Adjustable in height up to 5.1 m, sound-proof, clear view ca- bin with all-round tinted glazing and low horizon, R-Concept control panel panel at swivel seat, 12.1 inch R-Touch colour
terminal with R-Select und R-Direct operating system, 2 multi- functional joysticks with integrated mini-joysticks, air condi- tioning, air-cushioned swivel seat with brake, R-Touch colour terminal with clearly laid-out display of beet flow, fail indica- tor, MP3 radio with audio system, base console for telephone, storage locker of 60 l capacity integrated in the cabin rear wall, five windscreen wipers on front/side windows and door, all wipers with interval adjustment and washing system,2 LED internal lights, video system at swivel seat with split function and standard 2 cameras (optionally up to 4 cameras)
Operating drives and hydraulic system:
OMSI pump distributor gears, pressure circulating lubrication, with gear oil cooler; adjustable transmission ratio for reduced engine revolutions by loading from 1,150 rpm, power-shift multiple disc clutch to switch 6 hydraulic pumps of the ope- rating drives -> thus, easier start of diesel engine also at very low outside temperature;
- 4 axial-piston pumps (Bosch-Rexroth) for continuous and separate rotating speed adjustment and reversing of rollers drives (pickup, out and in flow, additional cleaning)
- 2 axial-piston pumps (Bosch-Rexroth) for continuous drive of infeed and truck conveyors
- 1 Load-Sensing axial-piston pump (Bosch-Rexroth) to feed all hydraulic cylinders -> all the movements are performed at the same time thanks to LVS directional valves with flow dividing principle.
- 1 axial-piston pump (Bosch-Rexroth) for reversible fan drive (hydraulic oil, water, charge air coolers)
- Hydraulic motors from Danfoss
Steering:
Front axle steering, rear axle steering, all-wheels steering, automatic mid-positioning of rear axle
Turning radius: 9.90 m inside
Cleaning and loading capacity: up to more than 560 tons
per loading hour
Pickup system:
Maximal pickup width 10.2 m, ROPA roller-pickup with 18 rollers, split into 3 separately driven units (each drive has a continuous revs. control and automatic reversing for all rollers (patented pickup system)
1. Pickup:
2 carbide tipped finger rollers operate up to a depth of 7 cm, 2 hard-coated cleaning rollers
2. Outward flow:
6 hard-coated conveyor rollers transport outward, divide the beet flow
3. Inward flow:
8 counter-rotating hard-coated pinch rollers guide inward => doubled cleaning path;
all pinch rollers made of seamless cold-drawn, extremely rigid special pipe, Ø 138.5 mm, 8 mm wall strength
Central mark with new, free-of-play drive; automatically ad- justable rotational speed matching conveyor rollers, slow run- ning for low wear and tear of the central mark cap; protection valve against safety chains tearing off, when not hanged off; telescopic and proportionally controlled residual beet pickup (external telescopic tube 180x180x5mm), colour camera and LCD colour monitor for camera depth control, de-icer in pickup centre and side parts
Infeed conveyor:
80 cm wide, 50 mm pitch with specially designed PU fingers and soil deflectors, double profile belts, with rotational speed control and quick motion switch (doubles the belt speed) for sieve conveyor self-cleaning in case of heavily sticky soil,15 mm steel wear-resistant side walls
Recleaning:
Standard: sieve conveyor, 90 cm wide, 40 mm pitch
Optional: pinch rollers cleaning with 8 counter-rotating rollers, 1,150 mm inner width, 1,300 outer width, rollers are construc- tively identical to pinch rollers of pickup
Truck conveyor:
80 cm wide, 40 mm-pitch, with rotational speed control and quick motion switch, reversible and interchangeable side walls made of wear-resistant 15 mm thick PU plates, backstop
Overloading height: up to 6.0 m Overloading width: 15.0 m
Counterweight arm:
9.02 m length, 6 m up to articulation point, bottom plate in fuel tank of 15 mm steel
Total cleaning area: 35.4 m2 Maximum cleaning path: 31.7 m
Electrics:
24 Volt, generator of 150 amps, electronic battery main switch
with automatic cut out after 5 days ignition off, 3 x 12 Volt sockets, 3 x 24 Volt sockets, diagnostics mechanism for the en- tire sensing and operational system integrated in the R-Touch colour terminal, warning signals are shown as symbols with text in the appropriate native language, software updating via standard supplied USB ports, long-life, water and corrosion protected construction of on-board electrics, use of exclusive, individually protected plugs (AMP, German), wiring of central electric system with WAGO-spring tightening clips (vibration proof), 3 identical ESR computers and 5 identical Hydac-TTC modules (exchangeable!) each, cable looms with heavy-duty thread protection
Driving on roads and operating mode:
With a single operating component you can switch automa- tically from road drive mode into operating mode in a good minute
Dimensions during road driving:
Length: 14.97 m; width: 3.00 m; height: 4.00 m
Empty weight with full fuel tank from 30,400 to 31,600 kg depending on equipment, permitted total weight: 32,000 kg, 4-axle
Tyres:
Front and rear axles with Michelin Mega X Bib 710/75 R34, optionally, Michelin CerexBib 800/70 R32 (Note: extra wide: 3.26 m!)
Two hydraulically sprung liftable support axles as standard with tyres 235/75 R17.5
Standard equipment: back run camera, depth-control came- ra, central lubrication system, automatic climate control, seat heating, Bluetooth radio, USB interface, operating lights and rear lights Hella LED, electrically adjustable mirrors, on-board tools, all rollers are hard-coated, pickup rollers with Widia pickup fingers
Additional equipment:
Recleaning with 8 counter-rotating hard-coated pinch rollers, park heating, water spray system (with individual sections controlled from R-Touch) with 400 l water tank, truck convey- or camera, recleaner camera, 40 km/h traction drive, operating lights on cabin roof left and right 1 LED each, storage compart- ment 1,000 x 600 x 600 mm behind the rear axle, R-Transfer with Wi-Fi Connect interface, weighing device Pfreundt with two weighing cells, SP 6 scales Pfreundt with six weighing cells